Owner & Licensed Esthetician
13 years experience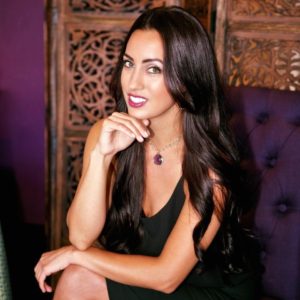 Having possessed a 'nurturing spirit' and penchant for helping people from as far back in my childhood as I can remember, I dreamed of becoming an RN. After having suffered from bouts of acne and other skin concerns as a youth, I began to cultivate an interest in dermatology and skin science. I was inspired by the thought of connecting and helping others with their skin; especially in overcoming struggles with acne, scarring, and the low self-esteem that often accompanies in not being able to "put your best face forward".
While chipping away at my nursing degree, (and working a few entirely unfulfilling jobs to support myself through college), I stumbled upon an opportunity to become an "esthetician". In doing some research about the career path, I was excited to learn that while working as an esthetician (one who specializes in the realm of skin care), I could acquire the certification & licensing necessary to help people with their skin in a warm and beautiful spa setting. I remember thinking "What a great 'stepping stone' to my dream career in dermatology!"
Within a year, I had achieved my credentials and license with ease. I figured I would enjoy my new profound esthetician career until I completed my BSN (bachelors in nursing science), and as it turned out I thought wrong. I've thoroughly enjoyed my career in esthetics so much, my only regret is that I didn't begin sooner. I truly feel that working in this industry is my passion and what God put me on this earth to do. My work in not only helping others transform their outer appearance, but in INSPIRING THEIR CONFIDENCE WITHIN THEMSELVES has brought immense fulfillment and satisfaction to my life. It's such a gratifying role to help people look and FEEL more beautiful in their skin that it feels almost spiritual in calling.
My years of valuable on-the-job experience working for several of Sacramento's finest spas & medi-spas before branching-off and opening Esthetic Arts in Oct 2010, have brought me to this point in my life where business entrepreneurship was the next logical step in expanding Esthetic Arts into it's current location and e-commerce operation it is today. It is my pleasure to bring you my own unique & "worldly" beauty concepts that can make a difference in your self-esteem and magnify your own self-worth!
"Follow your dream and all the universe conspires in helping you to achieve it"-Paulo Cahlo